SUITE DREAM PHILOSOPHY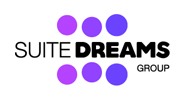 Our philosophy is to create modern and aesthetically elegant buildings, which are exclusively located in the centre of Los Cristianos. We aim to blend architectonic innovation with the local cultural tradition.
Furthermore, the peculiar location, in the historical centre of the village, will enable our guests to fully appreciate all that it offers: browsing and walking through the narrow streets that will take you to the sea side and at the same time experience and enjoy  the village life with its typical slow paced rhythms.
HORTENSIA SUITES

The building is located on Amalya Alayon, one of most historical streets of Los Cristianos village and considered the cradle of the oldest village families.
The choice of the name Hortensia Suites pays respect to and aims to keep alive the relationship with the history and tradition of this community. For this reason we wanted to remember Mrs Hortensia who was the owner of the land where the building is located. Hortensia Suites represents the union between the past rich in history and the future: a modern complex, which was created without compromising aesthetics and comfort.
FUTURE BUILDINGS
Work in progress